I started with a detailed, full-sized drawing of the shape and patterns. This design work was done over a period of a couple of months. There were lots of ideas about patterns, colors etc. that took some time to decide upon. I used a 1/4" grid paper and constructed the entire vase (with the exception of the base and part of the top) from 1/4" thick segments.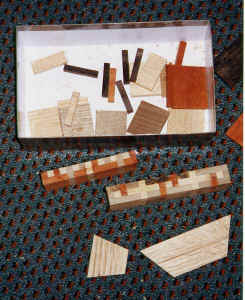 I did most of the cutting ahead of time. I used a simple jig on my table saw to accurately set the width of the small pattern pieces. As can be seen from the closeup photo of the celtic knot pattern, the pattern is made up of pieces which are multiples of the 1/4" base pattern width. These need to be cut very accurately in order to get the visual effect of the knot to work.
The knot patterns were pre-constructed into horizontal assemblies of 2 or 3 rows. This assembly was constructed on the workbench, and clamped tight to minimize glue lines. The top, bottom, and sides could then be lightly sanded on a sanding disk to eliminate any slight unevenness. This was by far the most tedious part of the process. The pattern had to be followed exactly in order to get the final 'knot' effect. (More than one 'mistake' is still kicking around my shop!)
This photo shows some of the construction pieces and partial assemblies. I started all the walls with 1 1/2" wide pieces. This was later turned down to a finished wall thickness of around 3/8".