These peppermills are constructed with the same attention to detail, color, and form as the other artworks I do. I've used high quality US-made peppermill mechanisms to ensure years of trouble-free use. These peppermills represent an ideal blend of the practical with the artistic. They bring a unique artistic flair to the kitchen or dining room.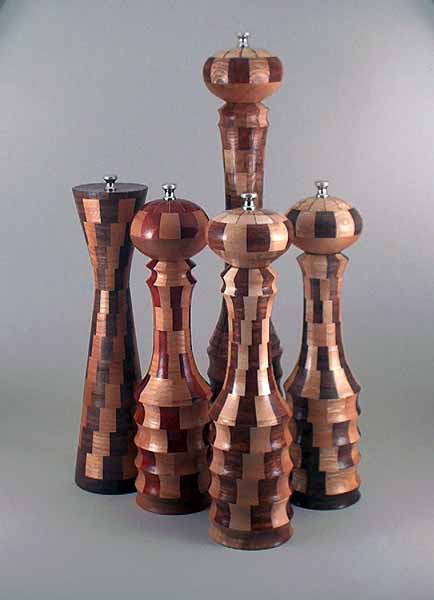 I've used two basic designs for peppermills. The first - the Classic look - is a traditional peppermill shape, with a rounded top for turning and a base sculpted for ease of holding and carrying. I liken the shape to that of a pawn in a classic chess set. The second shape I use is a hourglass-shaped mill. This shape has a more 'Scandinavian' look - simple yet well balanced and elegant. This shape is inspired by the candlestick designs of the late Rude Osolnik.
The tops of the mills each have a radiating pattern I call the 'Starburst' (see detail photos below). This is made of 12 segments of wood, often matched for grain pattern, separated by thin pieces of contrasting wood veneer.
From time to time I am asked about matching salt shakers to create a set. Upon request, I will create a matching salt shaker - typically matching the woods and general pattern, but perhaps altering the spiral direction or top of the shaker.
All peppermills are finished with several coats of Tung Oil, then buffed to a high sheen and waxed with a hard carnauba wax finish.
Closeups of the Starburst tops of some of the mills
The following is a sample selection of the available Peppermills.
Click on individual photos below for an enlarged view.
(prices available upon request)
Peppermill #502 - 3" Dia x 12" Tall

Woods: Birdseye Maple, Pau Ferro, Walnut veneer..
Number of segments:158

Peppermill #497 - 3" Dia x 17.5" Tall

Woods: Birdseye Maple, Pau Ferro, Walnut veneer..
Number of segments:230

Peppermill #495 - 3 1/4" Dia x 12" Tall

Woods: Cherry, ChakteKok, PauFerro 'starburst' top, Walnut veneer.
Number of segments:169

Peppermill #494 - 3 1/4" Dia x 12" Tall

Woods: Cherry, Nogal, PauFerro 'starburst' top, Maple veneer.
Number of segments:169

Peppermill #493 - 3 1/4" Dia x 12" Tall

Woods: ChakteKok, Red Gum, Birdseye Maple 'starburst' top, Walnut veneer.
Number of segments:169

Peppermill #492 - 3 1/4" Dia x 12" Tall

Woods: Maple, Red Gum, Birdseye Maple 'starburst' top, Walnut veneer.
Number of segments:169

Peppermill #488 - 3" Dia x 12" Tall

Woods: Ash, GonçaloAlves, ChakteKok, Maple veneer.
Number of segments:158

Peppermill #482 - 3" Dia x 12" Tall

Woods: Birdseye Maple, Pau Ferro, Walnut veneer.
Number of segments:158

Peppermill #415 - 3 1/4" Dia x 12" Tall

Woods: Walnut, Cherry, Maple veneer.
Number of segments:169

Peppermill #414 - 3" Dia x 12" Tall [SOLD]

Woods: Bloodwood, Zebrawood, Maple veneer.
Number of segments:158

Peppermill #413 - 3" Dia x 12" Tall
[SOLD]

Woods: Maple, Nogal, Bloodwood, maple veneer..
Number of segments:158

Peppermill #412 - 3 1/4" Dia x 17 1//2" Tall

Woods: Zebrawood, Bloodwood.
Number of segments:207

Peppermill #411 - 3 1/4" Dia x 12" Tall [SOLD]

Woods: Maple, Bloodwood.
Number of segments:135

Peppermill #410 - 2 3/4" Dia x 12" Tall

Woods: Purpleheart, Red Oak.
Number of segments:135

Peppermill #409 - 3 1/4" Dia x 17 1//2" Tall

Woods: Nogal and Cherry.
Number of segments:171

Peppermill #408 - 3" Dia x 17 1//2" Tall [SOLD]

Woods: Bloodwood and Tulipwood.
Number of segments:219